OpenBVE Woodbridge City Lines
Built
Rapid Railway Light Rail
1. North South Xpress(NSX)
The North South Xpress was previously named North South Line but in Singapore, there is already an MRT line named as this, therfore it is now known as the North Xpress Line. The North Xpress Line was built because the pollution from cars, trucks, airplanes and buses has already exceeded its maximum limit. Therefore, the North South Xpress was introduced.Built by
2.North East Xpress(NEX)(LRT Line)(Not to be confused with NEX serangoon Shopping Centre)
Built by RDRT.
To be using WTTA312 from WTTA temporarily when it starts operation ,more details to be announced today.
Tendering
1. Woodbridge - Graham Island Xpress
16 November 2010 System Map of Woodbridge Island Transit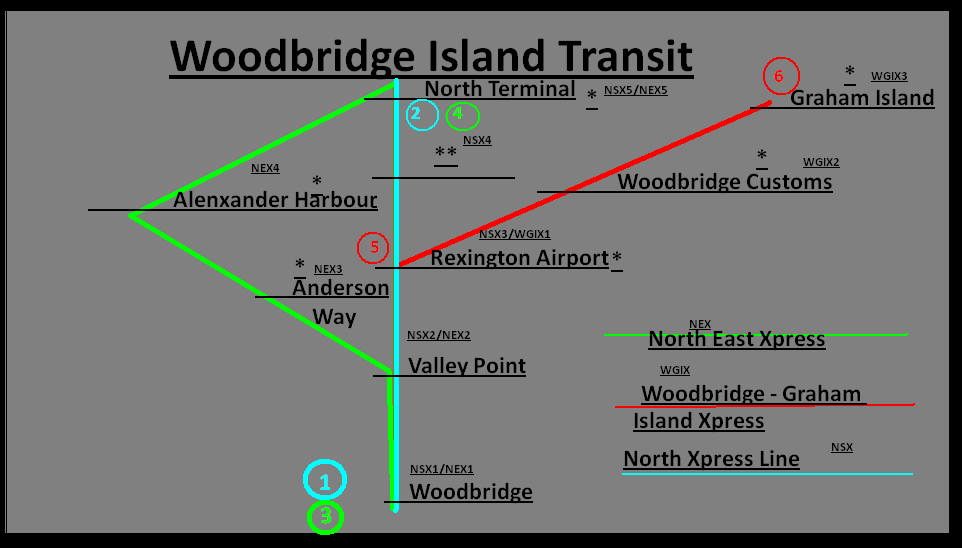 21November2010(Not up to date)
 RRBS(Rapid Railway Bus System)
981
WDB to RGA
Trains
LRT
NRTC312
NRTC312 trainsets were borrowed from NRTC for use on the North South Xpress temporarily due to late delivery of trainsets.
A one trainset display in the WLTA Gallery
WTTA312 (Previously known as C312 or WLRT312)
WTTA312 is ordered by Was ordered by WLTA for WLRT on the North South Xpress
A one trainset display in the WLTA Gallery
Legend
RRTS(Rapid Railway Transit system)= Boylush's company (Boylush Openbve MM2 co.Ltd(International))
RDRT = AlertedZameer's Company
Mod Note from nickgoh45: Editted this post for grammar
This post is officially edited on the 3February 2011 , 8.49PM